Education Events
---
Upcoming Chapter Educational Events & Paid Sponsorship Events:
---
2018 Colorado State Convention
April 25-28, 2018
Registration is open to ONLY Colorado members until November 30th, at which time registration then opens up to everyone (other AMTA members & non AMTA members).
Click here to learn more.
---
MANUAL LYMPHATIC DRAINAGE 5 DAY COURSE
Cost: $250.00 (regular $950.00) that is a $700.00 savings!!!
When: January 24th to January 29th 2018
Class size is limited to 30 people in total
CEU's = 45
Date and Times:
01/24/2018 to 01/28/2018 from 8:00am to 5:00pm & 01/29/2018 from 8:00am to noon.
To Register click here.
---
 Colorado Chapter
Lymphatic Massage
October 14-15, 2017
Golden, CO
https://www.eventbrite.com/e/co-amta-fall-education-event-lymphatic-massage-tickets-33901271616
Meet us October 14-15, 2017 in Golden for a 2 day introductory course Lymphatic Massage class and our Fall Chapter Meeting.
The Lymphatic Massage Class has been approved by the NCBTMB for 16 CEU's. This 2 day certification course is only available to 40 attendees, if you are interested in attending please register as soon as possible.
Our Chapter Meeting is Saturday October 14th from Noon-2pm and all members are welcome to attend just the meeting if you can't attend the education event as well. Simply just go into the registration link and select Saturday Luncheon/Chapter Meeting.
https://www.eventbrite.com/e/co-amta-fall-education-event-lymphatic-massage-tickets-33901271616
---
2018 Colorado AMTA State Massage Therapy Convention
April 25-28, 2018
Cost: $250 (start saving now, registration opens October 20, 2017)
CEU's: 24 hours NCBTMB (that's $10/CEU)
Classes: TBA
Location: Denver, Hotel is TBA
Registration will be announced on Facebook AMTAColorado
More information to come on a monthly basis, please check back here to get more information.
---
Paid Sponsorship Events:
Kinesio Taping Method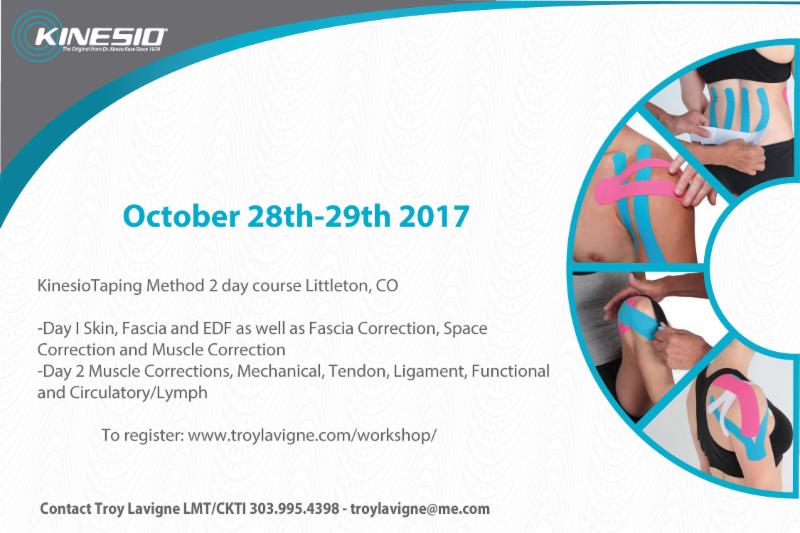 This 2-day course is designed to introduce participants to the science, assessment and application techniques of the Kinesio
Taping Method. Lecture Tutorials of the history, science and theory of stimulus transmission through skin and resulting
therapeutic benefit across efferent and afferent systems is reviewed. Corrections for Epidermis, Dermis, Fascia, Space, and
Muscle in case study format are presented. Lecture and demonstration by the instructor, then participants perform the Manual
Assessments and Movement Assessments. Discussion of the assessment flow charts to determine correct applications and
general progression of treatment clinically. Day Two continues with instruction and demonstration of assessment and taping
procedures for the Mechanical, Tendon, Ligament and Circulatory/Lymphatic Corrections in case study format. Time is allotted
for questions and discussion of the assessment flow charts to determine correct applications and general progression of
treatment clinically. After Day two, participants are required to participate in a practical exam of a basic taping technique. The
participant must pass the exam to attain the CEU certificate for this course.
 This is a paid sponsorship.
---
ACTIVE ISOLATED STRETCHING (AIS) LOWER BODY
for Massage Therapists & Personal Trainers
Presented by Bruce Baltz, MT, BCTMB and Founder of SpiriPhysical
Proudly offered by Club Spa & Fitness Association
& the Boulder Country Club
September 16 & 17, 2017
Boulder Country Club
7350 Clubhouse Road
Boulder, CO   80301
In this two-day workshop (16 CEs), participants will focus on the lower body (including the feet). We will review muscle action and function along with AIS principles for stretching clients in a clinical setting. We will explore the deepest tissues of the body with precision while increasing the flow of blood and oxygen to over-contracted and over-stretched tissues.
"Over the past four years I have found the Club Spa and Fitness Association to be the leading organization in the private golf and tennis club world. Their club members look for the best of the best in the fitness and wellness industries. If you are looking for new opportunities in your own city or another State the CSFA can give you that edge." –Bruce Baltz
---
Next workshop is Sept 7-10, 2017 in Denver, CO
To register or learn more please go to http://www.sricert.org/srtlp1
---
Useful Links:
Listed below is a list of useful links to related sites that might be of interest to Massage Therapists.